Cloverleaf Rolls
These soft, buttery rolls are a hit at dinner and give me a chance to use my stand mixer. This recipe makes about 12.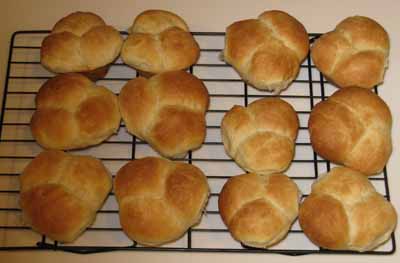 Assemble the following:
2-1/2 to 3 cups flour
1/4 cup warm (110 degrees) water
2 tsp active dry yeast
3 tbsp plus 1 tsp sugar
3/4 cup warm milk
5 tbsp butter, divided
1 egg
3/4 tsp salt
Put 1 tsp sugar and the yeast into the warm water and stir to mix.
Measure 2-1/2 cups flour, 3 tbsp sugar, and the salt into the bowl of a stand mixer, sift together with the whisk, then change to the dough hook.
Put milk, 3 tbsp butter, diced, in a small saucepan. Heat on low stirring frequently until the butter has completely melted. The temperature should be no more than 100 degrees.
Whisk the egg in a small bowl until white and yolk are well mixed.
Add the milk mixture to the mixer bowl and mix on lowest speed until uniform. Add the yeast mixture and egg and mix. Add a little more flour if necessary to get a soft and sticky dough that barely cleans the side of the bowl. Cover the mixer bowl with a damp towel and let the dough rest for about 10 minutes. Knead at medium-low speed for about two minutes. Scrape the dough into a lightly-oiled bowl and turn once so the dough is oiled all over. Cover with plastic wrap and allow to rise until doubled in bulk.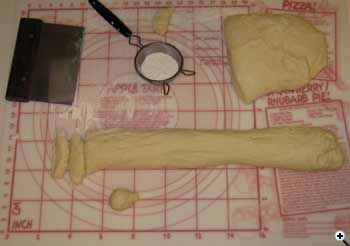 Melt the remaining 2 tbsp butter in a ramekin. Lightly oil a muffin tin with cooking spray.
Punch the dough down, turn it out onto a lightly-floured work surface, form it onto a "log" and cut in half. Form the dough into a long roll about 2-1/2" in diameter. Cut slices about 1/2" thick from the roll. It will have gaps and fissures along its length. Don't worry. (Depending on how much flour you used, each piece will weigh about 0.9 ounces. You can weigh the whole mass and divide by 36 if you want to be really precise.)
Form each slice into a mushroom or teardrop shape by folding the dough over on itself and pushing up from the bottom with your index finger. If a slice of dough is a bit too big, just pinch off a bit and set it aside. If it's to small, add a little bit from dough you've removed or from the end of the roll.
The "stems" of the mushroom shapes can be a bit ragged, but the tops should be about 3/4" in diameter, smooth, and free of bubbles. Dip each top in melted butter and place three in each muffin space.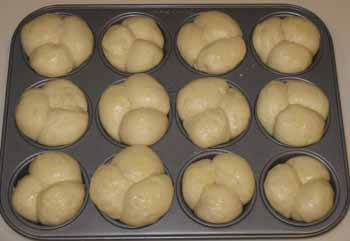 Repeat with the second half of the dough. Cover the muffin tin lightly with a sheet of waxed paper and allow the rolls to rise until approximately doubled in bulk.
While the rolls are rising, preheat the oven to 350 degrees.
Bake at 350 degrees for about 20 minutes, until the tops of the rolls are golden brown.
Cool on a rack.
Just before serving, you can warm the rolls for five minutes in a 350 degree oven.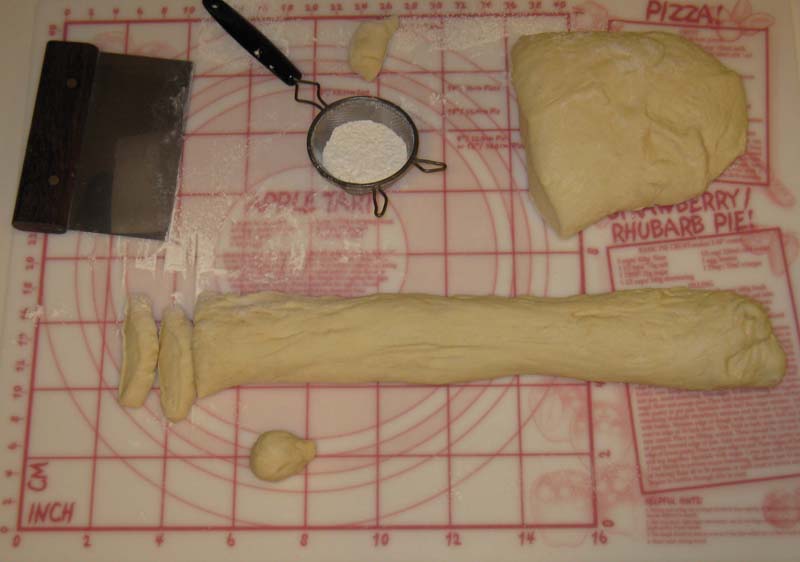 Last updated: 2019-12-25 20:43
Orignially posted: 2011-07-02
---
All comments are moderated. Uncivil comments and comments not relevant to this topic will be discarded.
comments powered by

Disqus