Tip Top Inn Pecan Pie
This pecan pie was served at the former Tip Top Inn on Pawley's Island. Thanks to Sis Kelly, who was the owner of the Tip Top Inn when she gave my friends and me this recipe. (The Tip Top Inn was destroyed by Hurricane Hugo, so the only way to get this pie today is to make it yourself.)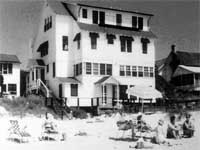 The Tip Top Inn was built in 1940, sold to Sis and Julian Kelly in 1980, and destroyed by Hurricane Hugo in September, 1989. This photo is from a 1950s post card.
Cream 4 tbsp butter and 1 C. light brown sugar
Add 1 C. white Karo syrup, creaming constantly
Add ¼ tsp salt to 3 eggs, beat until light and fluffy
Fold eggs into sugar and butter mixture
Add 1 tsp vanilla extract
Add 1 C. broken pecans
Pour into unbaked pie shell and bake 45 minutes at 300º
Last updated: 2013-03-04 4:17
Orignially posted: 2012-02-26
---
All comments are moderated. Uncivil comments and comments not relevant to this topic will be discarded.
comments powered by

Disqus