Poulet Bonne Femme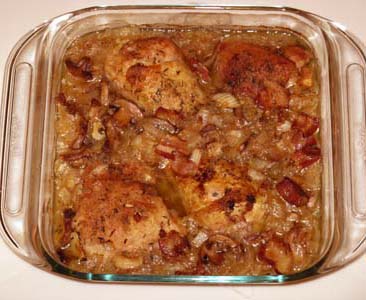 This is a country French braise of chicken with bacon. It's one of the best ways to cook chicken for a fall or winter meal.
Ingredients:
Chicken pieces sufficient for the number of people you want to feed. Be sure to include some dark meat.
Bacon (about 1/2 pound)
Button mushrooms
Onion (about one medium onion, chopped)
Garlic (a couple of cloves, sliced)
Fresh thyme, about two tbsp.
Chicken stock
Dry white wine or vermouth
Cut the bacon into squares and cook in a skillet to render the fat. Reserve the bacon.
Preheat the oven to 350°.
Season the chicken pieces with salt and pepper, dredge in flour, and brown in the bacon fat, adding fat or oil as needed. Arrange the browned chicken in a baking dish with the bacon pieces.
Pour off most of the remaining fat from the skillet and sauté the onion until the pieces begin to bubble. Add the garlic and mushrooms and cook until the onion is clear. Add about 1/4 c. white wine and cook until reduced by half. Pour over the chicken and season with thyme. Add chicken stock and white wine to cover the chicken. Use 1/4 c. wine for each cup of stock.
Bake uncovered for about 45 minutes.
Taste and adjust seasonings. Adjust the thickness of the liquid by adding stock or flour (or cornstarch) shaken thoroughly with cold water; the liquid should coat a spoon.
Cook for about 15 minutes longer, then allow the chicken to rest, covered, while you prepare vegetables, salad, etc. Serve with rice, French bread, or broad noodles.
Last updated: 2013-03-04 4:17
Orignially posted: 2011-07-02