English Muffins
English muffins are an essential ingredient for eggs Benedict and quite good on their own. Home made English muffins are miles better than their store-boughten cousins.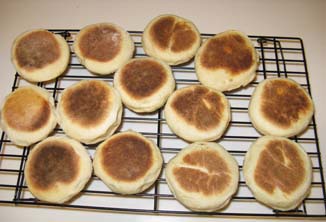 This recipe was adapted for the modern kitchen (by Yours Truly) from the Fannie Farmer Cookbook. Makes a dozen when you use a 3" cutter or about 10 with a 3-1/2" cutter.
You need:
3-1/4 cups all-purpose flour
2 tbsp cold vegetable shortening (or butter!)
1 tbsp plus 1 tsp sugar
1/2 tsp salt
1 cup milk
2-1/2 tsp. (one packet) active dry yeast (Read my thoughts on yeast)
1/4 c. warm (110 degrees) water
Making the dough
Heat the milk almost to a boil in a saucepan or warm it in a microwave. Allow to cool to about 95 degrees.
Dissolve the yeast and 1 tsp. sugar in the warm water. It will probably start to bubble even without the other ingredients. Good.
While the milk is heating (and cooling) and the yeast dissolving, put the flour, salt, tablespoon of sugar, and shortening in a food processor and pulse with the metal knife blade until the shortening disappears.
Add both liquids to the processor bowl with the processor running and process for 30-40 seconds to knead. The dough should be wet, but not runny. Add a little more water or milk, or a little more flour if necessary. Turn the dough out into a large bowl that has been rinsed with warm water, cover with plastic wrap and a towel, and allow to rise until doubled in bulk, about 90 minutes at room temperature.
Rolling and second rise
Spray a non-stick electric griddle lightly with cooking spray.
Turn the dough out onto a well-floured pastry cloth or silicone pastry mat. Shake a generous amount of flour onto the dough, push and pat it into a flattened ball, turn it over and flour the other side. Roll the dough into a circle 1/2" thick or a little less and cut it into rounds with a biscuit cutter. Arrange, well spaced, on the griddle.
Knead the cut-out dough into a ball, roll and cut another batch of muffins.
Cover muffins, griddle, and all with a slightly damp towel and allow to rise a second time until the muffins are puffy on top, perhaps an hour or less.
Cooking
After the second rise, remove the towel and set the griddle for 275°. Keep a close eye on things. After perhaps 5 minutes, the muffins will have begun to cook on the bottom and can be lifted with a nylon spatula. Gently turn the muffins over and cook top-side-down for 5 minutes. Turn and cook for 5 minutes. Turn again and cook for a final 5-6 minutes.
Remove the muffins from the griddle and cool on a rack. When completely cool, store in an air-tight bag. (You can freeze some for later use. Or not, as the case may be!)
Last updated: 2013-03-04 4:17
Orignially posted: 2010-02-16