Eggs Benedict
This makes an elegant and tasty breakfast.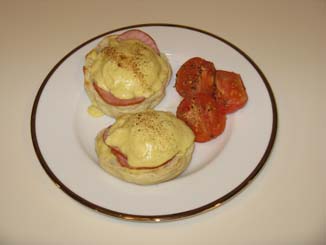 For each serving you will need two English muffins, two poached eggs, and four slices of Canadian bacon.
Make a batch of English muffins. Unless you enjoy getting up at three o'clock to start breakfast, do that the day before, or even much earlier because these freeze well.
It's a little tricky to have everything finished at once, but not difficult once one gets the knack of it. The most important trick is to assemble all the ingredients before you start cooking.
Preheat a broiler or toaster oven and bring water almost to a boil in a double-boiler. Melt a little butter in a skillet for the Canadian bacon and set up the egg poacher for poached eggs. Put plates in a 175-degree oven to warm and set the oven timer for three minutes.
Cut a thin slice off the top of each muffin, leaving a thick base. (The slices are a snack for the cook.)
When everything else is ready, make a recipe of Hollandaise sauce. One recipe will make Eggs Benedict for four people. About the time you start whisking the butter into the sauce, turn on heat for the egg poacher and put the Canadian bacon in the skillet on medium-low heat.
When the sauce is ready, put the egg cups into the poacher and the muffin bases in the broiler. Eggs and muffins will finish at about the same time.
Put two muffin bases on each plate, add a spoonful of Hollandaise, the Canadian bacon, and another spoonful of Hollandaise. Slip a poached egg onto each muffin, spoon Hollandaise generously over the eggs, and sprinkle a little paprika on top for color.
Serve with something colorful like broiled tomato quarters or chunks of fresh pineapple. I never bother with the parsley sprig that seems to be obligatory in restaurants.
Last updated: 2013-03-04 4:17
Orignially posted: 2010-02-21